If you want to be the best at pickleball, you need the right shoes, especially if you're a woman. Having the best pickleball shoes for women can make a big difference in how well you play and how comfortable you feel.
While many pickleball shoes are made for men or have sizes that work for everyone, there are some great options out there specifically designed for women. We picked 11 best pickleball shoes for women. Let's take a look at a few of them!
I have written a comprehensive review of the highly popular K-Swiss Express Light Pickleball court shoes, highlighting the reasons behind their success as the best-selling women's pickleball shoe of the previous year.
In essence, these shoes excel in providing exceptional support specifically tailored for the lateral movements required in pickleball. Given the sport's dynamic side-to-side motions, having footwear that offers reliable support becomes crucial, and the K-Swiss Express Light delivers on that front. Additionally, their affordability makes them a remarkable value for pickleball enthusiasts.
The extensive number of reviews on Amazon is a testament to their popularity and performance. Notably, these court shoes stand out in terms of design as well, boasting one of the most stylish and contemporary aesthetics currently available. Their appeal transcends beyond the court, as they are suitable for wearing casually in everyday situations.
With the K-Swiss Express Light Pickleball court shoes, you not only get top-notch performance and support for your pickleball game but also a fashionable and versatile footwear option for various occasions.
Our Top Pick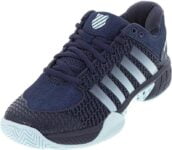 This women's pickleball shoe is a top seller on Amazon.
It features added plantar support for enhanced mid-foot stability.
The Durawrap technology on the upper adds an extra layer of protection against toe dragging during play.
If you're a sports and fitness enthusiast, look no further than the Acacia Dinkshot Pickleball Shoes. These shoes are designed to support you during intense gameplay. With their polymer microfiber upper body, they offer great ankle and joint support. The insoles feature honeycomb memory foam, ensuring breathability and excellent shock absorption. You'll feel light on your feet as these shoes are lightweight and flexible, allowing you to swiftly change direction on the court.
The midsoles of these shoes are made of high-quality EVA with ARK technology for improved water-resistance and traction. They provide the balance and stability you need while moving around the Pickleball court. These shoes are the perfect companion to take your game to the next level. Get ready to show off your skills with confidence!
POSITIVES
Improved balance and stability

Comfortable to wear

Effective shock absorption

High-quality shoe material

Minimal heel slippage

Lightweight and easy to move in
The Focus Unlimited Says:
Choose pickleball shoes with strong stability and a wide base to reduce the risk of ankle or knee sprains. Look for supportive shoes with a sturdy structure. Stay safe on the court and enjoy your game!
Tyrol shoes are specially crafted for pickleball players, so they provide the extra support needed for those quick side-to-side movements on the court.
It's crucial to have the right footwear because regular tennis shoes may not offer the same level of support for the intense lateral movements required in pickleball.
POSITIVES
Breathable mesh upper keeps your feet cool and comfortable

Durable toe guard provides added protection and extends the lifespan of the shoes

Good traction ensures stability and grip on the court
NEGATIVES
May run large, so consider sizing down for a better fit

Can be on the expensive side, but the quality and performance justify the price
If your pickleball shoes aren't comfortable, it can really affect your game. That's why we recommend Prince's T22 Tennis Shoe. These shoes are not only stylish and supportive, but they're also incredibly easy to wear.
The T22 Tennis Shoe is a fantastic option for the best pickleball shoes for women. It boasts a specially designed midsole with a shock-absorbing heel insert, delivering exceptional cushioning that keeps your feet comfortable. The shoe's forefoot insert plays a crucial role in evenly distributing impact during running and diving, providing maximum support and comfort. Additionally, the breathable mesh upper keeps your feet cool and prevents overheating even during the most intense matches. With the T22 Tennis Shoe, you can enjoy a combination of cushioning, support, and breathability for an optimal pickleball experience.
Many wearers appreciate the good ankle support provided by these shoes, which is great for players who worry about rolling their ankles. However, it's important to note that these shoes are designed for tennis, not specifically for pickleball. Additionally, they do weigh slightly more than other shoes on our list, coming in at around 14 ounces.
POSITIVES
Great shock absorption

Excellent ankle support

Breathable mesh upper for added comfort
NEGATIVES
Heavier compared to some other options

Not specifically designed for pickleball
Appealing design, attractive looks, and ultimate comfort describe the Wilson Rush Pro Pickleball Shoes. They have 100 percent high-quality synthetic along with rubber sole for increased comfort. These multi-directional traction shoes are extremely lightweight and offer a superior court feel. They help increase your agility and acceleration. In addition, the shoes have better cushioning and rebound features. Dr. Dave Candy, physical therapist and owner of More 4 Life say, "Arch support is really important for people with flat feet or who overpronate, especially when making quick direction changes." Their advanced arch technology provides stability and support as you move fast across the court. To make an informed decision before buying, you can check out this video.
POSITIVES
Premium synthetic construction

Lightweight design

Durable build

Excellent support and stability

Great ankle support
Laurie Coyne, a certified pickleball coach and the owner of AquaLane Pickleball in Virginia Beach, Virginia, highly recommends the Babolat Jet Tere shoe as one of the best pickleball shoes for women. She is absolutely thrilled with its durable Michelin outsole, which offers exceptional traction on the court even after months of rigorous play. Not only are these shoes lightweight, but they also provide a well-balanced feel, allowing Laurie to effortlessly adapt to the fast pace of pickleball. With Babolat, Laurie can confidently move around the court and make quick direction changes with utmost stability.
The shoe offers a cushioned insole with removable foam for a customizable fit and support. It also features a breathable mesh upper, a roomy toe box, and reinforced heel support, which are all great features. The shoe's design includes lateral movement protection to reduce the risk of rolling your ankle, and the vibrant colors make you stand out on the court. Weighing only 9.6 ounces, they are one of the lightest options available.
While these sneakers are not specifically designed for pickleball, they are suitable for various court sports, both indoors and outdoors. Some wearers mention that they tend to run one size small, so it's recommended to order a size up. However, according to Laurie, they might be the only shoes a pickleball player needs to own.
POSITIVES
Breathable mesh upper

Wide toe box

Removable insole
NEGATIVES
Not pickleball-specific

May run small
The Python Deluxe Indoor Court Shoes are perfect for your Pickleball practice sessions. They're super comfy, lightweight, and built to last. The soft mesh fabric on the inner sides provides great court feel and absorbs sweat effectively. These shoes also offer excellent heel stability with a thick back heel for support and stability during lateral movements. You'll have no trouble changing directions on the court. These sports shoes have been tried, tested, and highly recommended by experts and professionals. Get ready for a fun and intense Pickleball experience with these top-notch shoes!
POSITIVES
Excellent moisture absorption

Soft and high-quality fabric

Provides exceptional stability

High sweat-absorbing capacity

Lightweight
If you have wide feet and you're on the hunt for the best pickleball shoes for women, finding the right fit can be quite a task. Luckily, FitVille's Amadeus Court Shoes have got you covered. These shoes are specially designed to cater to wide feet, and they even offer extra-wide sizes, ensuring you find the perfect fit that's just right for you. The cherry on top is that they come at a more affordable price compared to other top choices out there. With FitVille, you can have both the comfort and the fit you need without breaking the bank.
The insole of the shoe features a honeycomb structure covered with soft material, providing ample cushioning and shock absorption. The deep and wide heel cup offers excellent stability, ensuring you feel supported during intense gameplay. Additionally, both the insole and footbed are removable, allowing you to customize the shoe with your own orthotics if needed.
These versatile shoes can be used for both tennis and pickleball, thanks to their durable and non-skid rubber anti-torsion sole. They also feature an anti-odor midsole, keeping unpleasant smells at bay. However, some wearers have mentioned that the microfiber and mesh upper feels a bit stiff.
POSITIVES
Odor-resistant

Provides deep and wide heel cup for stability

Budget-friendly option
NEGATIVES
Upper material may feel stiff
If you're ready to impress your opponents with your speed and agility on the pickleball court, look no further than the Gel-Renma Pickleball Shoes from ASICS. These shoes are designed to enhance your stability with TRUSSTIC technology, allowing you to move confidently and swiftly. The wrap-around outsole enables coordinated and dynamic movements, giving you an edge in the game. With a synthetic leather coating, these shoes are built to last and provide durability. Don't miss out on the opportunity to experience stability and freedom of movement with these amazing shoes in the pickleball arena.
POSITIVES
Flexible outsole for enhanced mobility

Lightweight design for comfortable wear

Improved stability for better performance

Durable construction for long-lasting use

Suitable for daily use on and off the court
NEGATIVES
None identified, offering a positive overall experience.
Oh, let me tell you about the Wilson shoe! It's really something special. It's not just any shoe on our list, it's the one with the highest quality. And you know what's even better? Wilson is a well-known brand in racket sports, so you can trust that these shoes are built to last. They're so durable that I wouldn't be surprised if you're still using them in 2030. Pretty amazing, right?
POSITIVES
Prevents foot twisting.

Plush, padded midsole.
NEGATIVES
Only one color available.
These Tyler Loong Signature Edition Pro Shoes from Acacia Sports are the best for Pickleball Game. They have a water-resistant midsole that gives the shoe's footbed structure. The thick foam layer feels super comfy, and the silicone insole has a cool honeycomb-gel design that absorbs shock.
What's great about this pair is that it has a wide toe box and offers excellent heel stability. We really like the leather drag guard too, which wraps around the shoe to protect it from scratches and scuffs. Plus, the soles are super durable and won't leave marks on the court, which is a requirement for official USA Pickleball games.
Acacia Sports is a trusted brand recommended by experts. However, keep in mind that while these shoes have a roomy toe box that many players will love, they might be a bit too wide for people with narrow feet.
POSITIVES
Provides excellent heel stability.

Features a non-marking and durable sole.

Antimicrobial insole for added hygiene.
NEGATIVES
Toe box may be too wide for some individuals.
How To Choose The Right Pickleball Shoes For Women?
Cushion
Like every racquet sport, including Pickleball, finding the best pickleball shoes for women is crucial. The game requires high athleticism, demanding superior court coverage, quick response time, and swift feet movement. Optimal footwear with superior cushioning not only absorbs shocks effectively but also reduces feet fatigue, allowing you to practice longer and with the right intensity.
Breathability
Fast sweat absorption makes the Pickleball shoes better suited to the sport. They also reduce the chances of feet allergies and injuries. In addition, more breathable shoes ensure better comfort to make the game enjoyable.
Durability
You must go for Pickleball shoes with good quality and durability. This means fewer chances of frequent replacement. In addition, good quality, durable shoes will have better material that offers you ultimate comfort while on the court.
Shoe Grip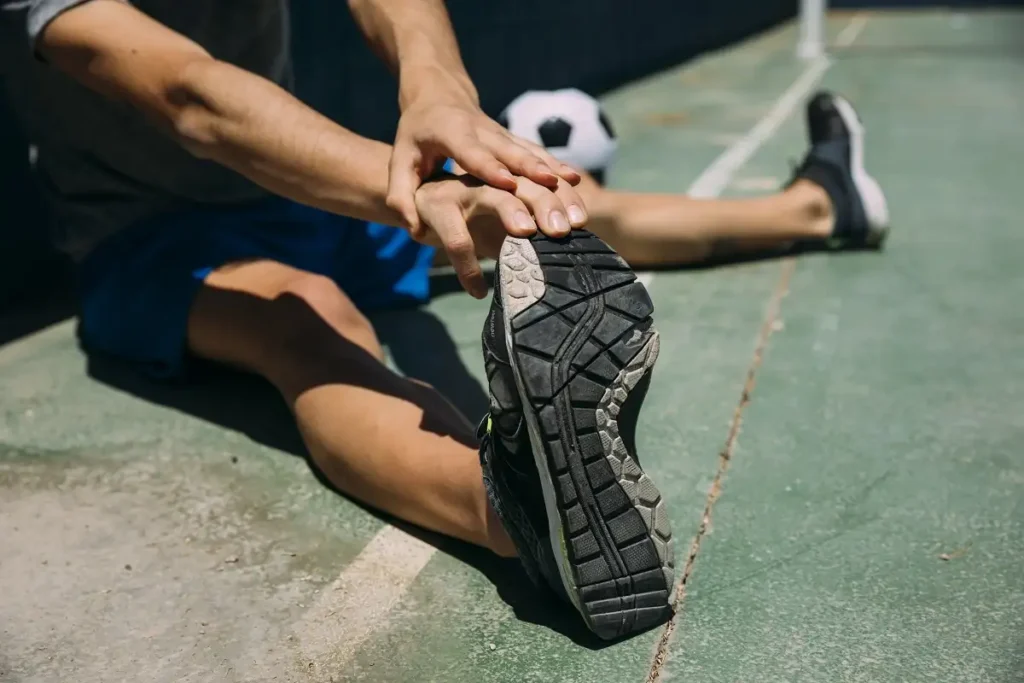 When it comes to pickleball, like other racquet sports, having the best pickleball shoes for women is essential. The game requires frequent changes in direction, making it easy for shoes to slip. That's why it's important to choose shoes with excellent shoe grip, providing optimal traction and lateral support to keep you stable during quick movements on the court.
Flexibility
More flexible shoes give you a better chance of varying speed, changing directions, and sliding efficiently. You must go for shoes that are flexible up to 90 degrees. Such flexibility will also minimize the chances of injury.
Shock Absorption
Choose shoes with high-quality insoles and outsoles. They must also have cushioning materials such as gels and pads. This reduces the stress on your joints and muscles. Such shoes will also make your on-court time more comfortable.
Cost
It is important to balance cost and quality while choosing any product. Go for shoes that are reasonably priced but never compromise on quality.
Benefits Of Using The Right Pair Of Pickleball Shoes
The right pickleball shoes provide excellent stability, reducing the risk of slipping and falling during intense gameplay.
Specially designed outsoles offer superior traction on pickleball courts, allowing for quick movements and precise footwork.
Properly cushioned shoes offer optimal comfort, reducing the impact on joints and minimizing fatigue during long matches.
Lightweight pickleball shoes enable swift movements and agile transitions, helping players react faster and maintain a competitive edge.
High-quality materials and reinforced construction ensure that your pickleball shoes will withstand the demands of frequent play, lasting longer.
Breathable shoe designs promote airflow, preventing excessive sweating and keeping feet cool and dry during intense gameplay.
Adequate arch support helps maintain proper foot alignment and reduces the risk of discomfort or injuries during extended play.
Pickleball shoes with proper ankle support provide stability and reduce the chance of ankle twists or sprains on the court.
Apart from performance, the right pair of shoes also adds style to your pickleball outfit, allowing you to express your personality on the court.
When you have the right pair of pickleball shoes, you can focus on your game without distractions, leading to increased confidence and overall performance.
Why Trust The Focus Unlimited?
Let me introduce you to Sumaiya Ruhin, a fitness enthusiast with a diploma in Health & Wellness. She's not only passionate about staying fit but also loves exploring and reviewing the latest products in sports, fitness, and health. In this article, Sumaiya dedicated her time to researching various pickleball shoes, carefully considering their design, durability, comfort, and affordability.
To provide you with the most reliable information, Sumaiya took the extra step of going through numerous user reviews. These firsthand experiences helped her create a comprehensive list of the pros and cons for each product. The selected pickleball shoes offer excellent grip, reducing the chances of injury and providing protection against blisters and soreness. With these shoes, you can expect long-term performance and enjoy your game to the fullest.
Sumaiya's expertise and dedication ensure that you receive honest and insightful reviews, helping you make informed decisions when choosing the right pickleball shoes for your needs.
Frequently Asked Questions
Are pickleball shoes different from tennis shoes?
Pickleball shoes and tennis shoes have similar shapes and designs, making them interchangeable in most cases. However, if you're playing on an indoor pickleball court, specific pickleball shoes are recommended for better stability and traction. Tennis shoes typically have harder soles that may not provide the same level of grip.
Can regular sneakers be worn for pickleball?
Regular sneakers are not ideal for pickleball. Specific pickleball shoes offer better stability, structure, and support, which are essential for the quick movements and lateral changes of direction in the game.
What distinguishes indoor and outdoor pickleball shoes?
Outdoor pickleball shoes are designed with wider soles and a stiffer structure to provide excellent stability on outdoor courts. In contrast, indoor pickleball shoes have rubber soles that offer a softer grip on indoor surfaces.
How should pickleball shoes fit?
Pickleball shoes should fit comfortably without being too tight or loose. There should be a little space between the toes and the shoes to allow for free movement and prevent discomfort.
Are running shoes suitable for pickleball?
Running shoes are not recommended for pickleball as they are primarily designed for forward motion and lack the lateral stability required for pickleball's side-to-side movements. It's best to opt for shoes specifically designed for pickleball to ensure proper support and performance.
Also Read-