Are you an avid pickleball player looking for the perfect pair of shoes to enhance your game? Look no further! In this comprehensive guide, we will reveal the best pickleball shoes available in 2023. Whether you're a beginner or a seasoned pro, having the right footwear can make a significant difference in your performance on the court. So, let's dive in and find the perfect pair of pickleball shoes for you.
Understanding the Importance of Pickleball Shoes
To excel in pickleball, it's crucial to understand the significance of wearing proper pickleball shoes. These shoes are specially designed to provide the support, stability, and comfort needed for the quick lateral movements and explosive bursts required in the game. By wearing the right shoes, you can minimize the risk of injuries and optimize your performance on the court.
Key Features to Consider
When selecting the best pickleball shoes, several key features should be taken into account:
Best Pickleball Shoes for Beginners
If you're new to pickleball, these shoes are a great starting point:
Introducing Fila Double Bounce: the best entry-level pickleball shoes for women and men. Available in two colors (pink/white and pure white), these shoes offer a durable rubber outsole for solid grip and traction. Enjoy exceptional comfort, stability, and an affordable price. Elevate your pickleball game today with Fila Double Bounce!
Step onto the courts in style with the Double Bounce Pickleball Court 3, the best pickleball shoes that will elevate your game. This latest addition to the DB pickleball line features a cushioned Energized EVA midsole, equipped with a stabilizing TPU shank, providing unparalleled comfort and support. The breathable mesh upper, complemented by a removable EVA sockliner, ensures maximum breathability and a customized fit. With its high abrasion rubber outsole and toe cap, these shoes offer exceptional durability for intense play. Embrace the fusion of style and performance and make a statement with the best pickleball shoes available.
Introducing the ultimate choice for beginners in the world of pickleball – the Asics GEL-Nimbus 25, the best pickleball shoes for beginners. This exceptional running shoe surpasses expectations with its lightweight knit upper material, providing optimal breathability and air circulation to keep your feet cool and fresh. Experience unrivaled comfort with the OrthoLite™ X-55 insole combined with PureGEL™ technology, ensuring a plush and cushioned feel with every step. The AHAR rubber sole not only guarantees durability but also excels in long-distance play, offering unmatched grip and stability. Step into the game with confidence and embrace the extraordinary performance of the best pickleball shoes for beginners, the Asics GEL-Nimbus 25.
Introducing your ultimate companion for versatile style – the adidas tennis-inspired sneakers, the best pickleball shoes for beginners. These shoes take the classic silhouette and elevate it with contemporary comfort, making them perfect for any occasion. Embrace the empowering spirit of International Women's Day with the captivating flower graphic, allowing you to proudly declare that the future is feminine, no matter what you choose to wear. Experience the perfect blend of style and comfort as you conquer the court or take on your daily adventures. Step into these exceptional shoes and let them inspire you to embrace your confidence and make a bold statement wherever you go.
Lightweight and Breathable Options
If you value lightness and breathability, check out these shoes:
Gear up for the game with these exceptional pickleball shoes that combine lightweight performance with breathability. No matter the playing surface, these shoes are designed to meet your every move. Engineered for women, these adidas tennis shoes feature an Adituff toe and an Adiwear outsole, delivering unmatched durability and resilience. The Bounce midsole, known for its lightweight and flexible properties, empowers you to unleash your full potential on the court, enabling lightning-fast movements across all four corners. With its superior comfort and agile design, these shoes provide the perfect balance of support and freedom, ensuring you stay focused and agile during intense gameplay. Elevate your performance and conquer the court with confidence in these lightweight and breathable pickleball shoes.
Experience the ultimate in training with these serious pickleball shoes. Featuring a stable leather upper, bottom flex grooves, and Charged Cushioning® for impact absorption, these shoes are designed to enhance your workout. The lightweight mesh upper with overlay details ensures breathability, while the dual-external heel counter provides added stability. Enjoy the comfortable support of the leather mid-foot saddle and cushioned sockliner that molds to your foot. The Charged Cushioning® midsole delivers a responsive burst, and the full rubber outsole with strategic flex grooves offers multi-surface traction and flexibility. Lace them up for a secure fit and elevate your training with these lightweight and breathable pickleball shoes.
I have written a full review of the highly popular K-Swiss Express Light Pickleball court shoes, highlighting the reasons behind their success as the best-selling women's pickleball shoe of the previous year.
Experience the pinnacle of performance with K-Swiss, the pioneering brand that introduced the world's first court shoe exclusively designed for pickleball. As one of the fastest growing sports in the United States, pickleball demands exceptional footwear, and the Express Light Pickleball delivers precisely that. This shoe is meticulously crafted to provide players with unmatched comfort, lightweight construction, and breathability, enabling optimal on-court movement and performance. Whether you're a beginner or an experienced player, the Express Light Pickleball is the perfect all-around shoe that caters to your needs. Showcasing the iconic K-Swiss Pickleball logo and featuring a customized Pickleball sockliner, this shoe exudes authenticity and style. Designed for hard court or clay court playing surfaces, the Express Light Pickleball embodies the epitome of performance and versatility. Elevate your game and dominate the court with the best pickleball shoes, brought to you by K-Swiss.
Best Pickleball Shoes: Advanced Players' Favorites
For more experienced players seeking top-notch performance, consider these options:
The GEL-RENMA shoe is expertly crafted for court players aiming to enhance their game. When it comes to executing multidirectional movements, having the right footwear is essential to boost stability and flexibility. With its advanced TRUSSTIC technology, the shoe offers improved support while minimizing excessive twisting. Additionally, the wrap-up outsole, paired with a wider gauge, facilitates smoother and more balanced movements. Purposefully positioned flex grooves in the outsole cater to multidirectional motions, enabling greater flexibility and unrestricted movement.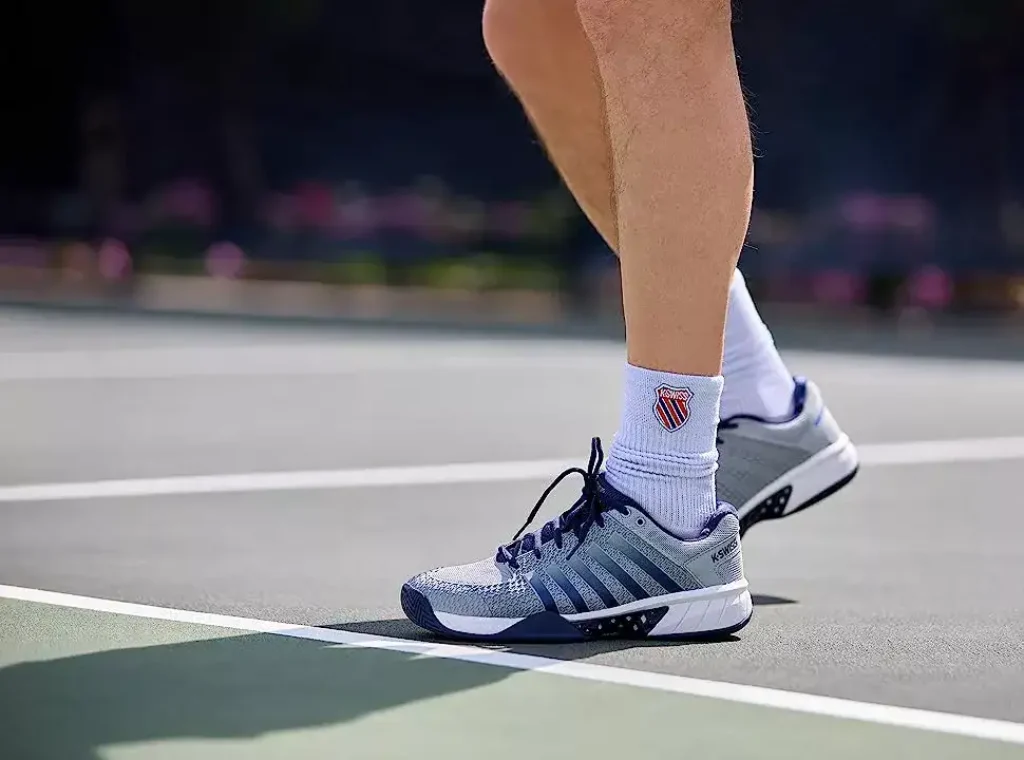 Experience the game-changing K-Swiss Express Light Pickleball shoe, designed exclusively for one of the fastest growing sports in the US. This all-around shoe offers comfort, lightweight breathability, and on-court support for optimal performance. With its iconic K-Swiss Pickleball logo and customized sockliner, it's perfect for both new and experienced players. Ideal for hard court or clay surfaces. Elevate your Pickleball game with K-Swiss.
Experience the best pickleball shoes for agility and lightness. Our lightweight cross-trainers offer exceptional cushioning and stability. Perfect for dance fitness and low-impact workouts. Features N-Gage energy return foam, breathable mesh with faux leather overlays, and a lace-up closure. Designed for women's unique foot shape with extra arch and heel support. Lightweight EVA midsole and ergonomically-shaped rubber outsole for durability. Weighing only 206g/7.2oz per shoe with a 6mm heel-to-toe drop. Elevate your performance on the court.
Stability and Support for Quick Movements
When agility and stability are your top priorities, these shoes won't disappoint:
Step up your pickleball game with the ASICS Women's Gel-Rocket 9 Volleyball Shoes. These versatile shoes deliver exceptional performance, thanks to their elastic EVA midsole, providing cushioning and rebound properties. Stay comfortable and agile on the court with their lightweight design and gel cushioning system. Elevate your game with ASICS.
Unleash your dominance on the pickleball court with the Mizuno Women's Wave Lightning Z6. This shoe delivers explosive power and unbeatable acceleration, keeping you one step ahead of your opponents. Its breathable mesh upper and half bootie construction provide flexible movement. Stay perfectly balanced with its extra-stable outrigger sole. Elevate your game with Mizuno.
Elevate your pickleball game with the adidas Women's Gamecourt 2, the best pickleball shoes. These breathable and flexible shoes keep you cool and competitive. The padded heel provides support during long rallies, while the durable Adiwear outsole ensures hours of play. Perfect your game with adidas.
Best Pickleball Shoes for Durability for Long-Lasting Performance
For players seeking long-lasting performance, consider these durable options:
Unleash your potential on the pickleball court with the ASICS Men's Gel-Dedicate 7, the best pickleball shoes. Experience stability, flexibility, and focus with its synthetic leather upper and supportive design. Elevate your game with ASICS.
Step up your pickleball game with the Skechers Men's Viper Court-Athletic Pickleball Shoes. These lightweight shoes offer unmatched comfort and arch support. Designed for indoor and outdoor play, they provide reliable traction and enhance your performance. Elevate your game with Skechers.
Best Pickleball Shoes for Cushioning and Shock Absorption
Protect your feet from impact and improve comfort with these cushioned shoes: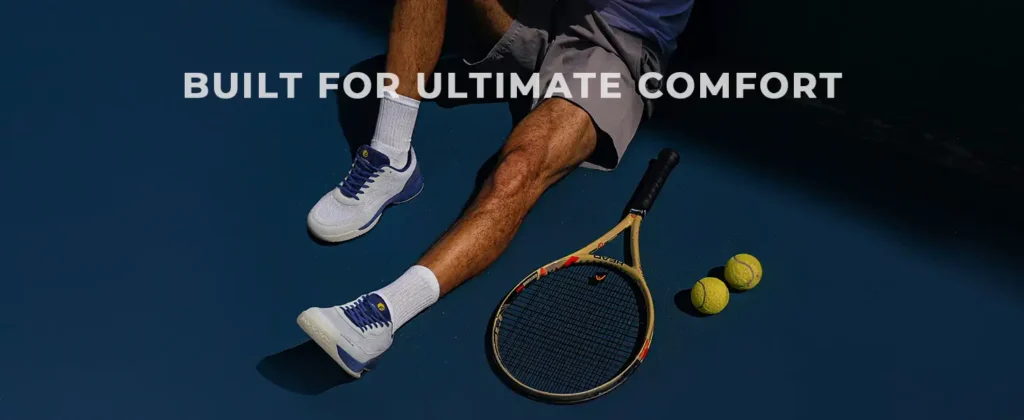 FitVille Wide Pickleball Shoes for Men Tennis Shoes Sneakers for All Court Racquetball Athletic Shoes for Racquet Sport, Arch Support & Wide Toe Box are designed to provide comfort, support, and performance on the court. These shoes offer a wide fit to accommodate individuals with wider feet. The arch support feature helps provide stability and reduces the risk of foot fatigue, making them suitable for individuals with plantar fasciitis or those seeking additional arch support. With their all-court design, these shoes are versatile and suitable for various racquet sports, including pickleball, tennis, and racquetball.
They are crafted with the aim of providing a comfortable fit and reliable performance during gameplay. The shoes are also praised for their stability and lightweight design, allowing players to move swiftly and confidently on the court. Additionally, the shoes have received positive reviews for their supportive features, making them a popular choice among players.
The ACACIA Unisex-Adult Pickleball Shoes, known as the DinkShot shoes, provide excellent ankle support, traction, and comfort for pickleball players. They feature high-abrasion contoured outsoles with lower drag guards, non-marking natural rubber outsole with elevated heels for increased leverage and control. The impact-resistant honeycomb insole offers exceptional comfort, air circulation, and shock absorption. These shoes are designed to deliver excellent grip and control on outdoor courts, making them the best pickleball shoes for players.
Shoe Fit and Sizing Guide
To ensure the perfect fit, follow these guidelines when choosing your pickleball shoes:
👉 Measure Accurately: Use a measuring tape or ruler to measure the length and width of your feet.
👉 Try Before Buying: Whenever possible, try on the shoes before purchasing to assess the fit and comfort.
👉 Consider Sock Thickness: If you typically wear thicker socks during gameplay, take that into account when selecting your shoe size.
Care and Maintenance of Pickleball Shoes
To prolong the lifespan of your pickleball shoes, follow these care and maintenance tips:
👉 Clean After Each Use: Remove dirt and debris from your shoes using a soft brush or cloth.
👉 Air Dry: Allow your shoes to dry naturally in a well-ventilated area after each game to prevent odor and prolong their lifespan.
👉 Rotate Shoes: Rotate between multiple pairs of shoes to give them time to recover and prevent excessive wear and tear.
Expert Tips for Choosing the Right Shoes
Here are some expert tips to keep in mind while selecting the best pickleball shoes:
Consider Playing Style: Different playing styles may require specific shoe features. Analyze your style and choose accordingly.
Seek Professional Advice: If you're unsure about the right shoes for you, consult with a pickleball coach or experienced players for recommendations.
Prioritize Comfort: Opt for shoes that prioritize comfort, as it will significantly impact your performance and enjoyment of the game.
Final Thought
Choosing the best pickleball shoes is essential for pickleball players of all levels. By considering factors such as grip, support, durability, and cushioning, you can find the perfect pair to elevate your game. Remember to prioritize comfort and fit, and don't hesitate to seek expert advice if needed. With the right pickleball shoes, you'll be ready to conquer the court and enjoy the game to the fullest.
Frequently Asked Questions (FAQs)
Make sure to choose the best pickleball shoes that suit your playing style and provide the comfort and support you need to perform your best on the court. Game on!
Read Next –