Are you or someone you know struggling with a meniscus tear? Dealing with such an injury can be quite challenging, impacting your daily activities and overall quality of life. But fear not, as there are fantastic knee braces available that can provide the support and relief you need. In this article, we'll walk you through the best knee brace for meniscus tear in 2023, offering a comprehensive guide to help you make an informed decision.
Understanding Meniscus Tears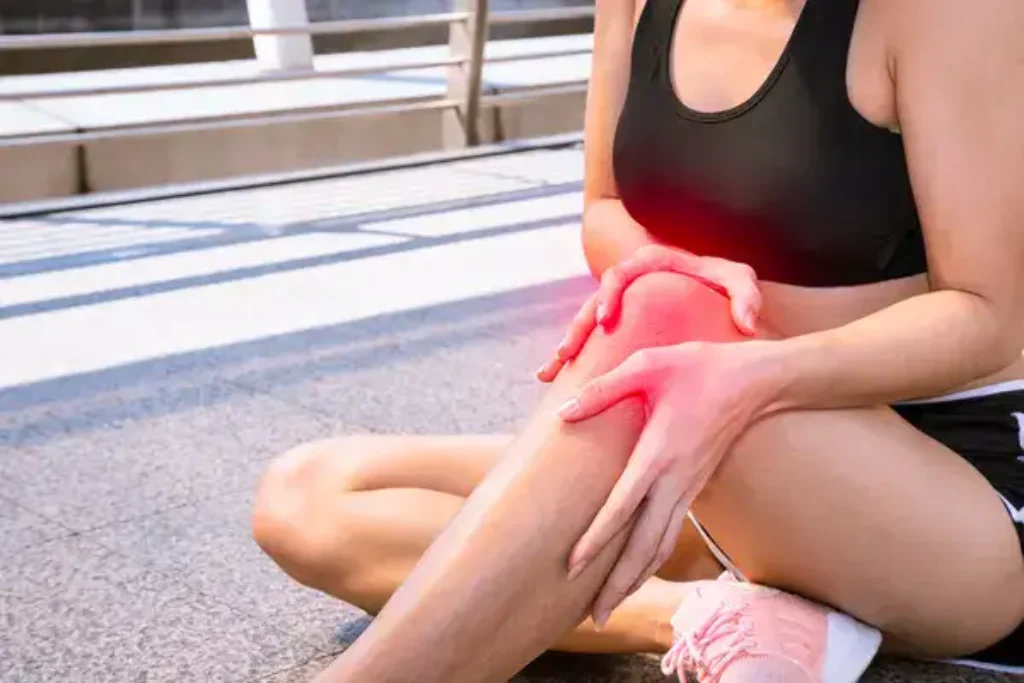 Before delving into knee braces, let's grasp the basics. A meniscus tear is a common knee injury, often resulting from sudden twists or turns. These tears can lead to pain, swelling, and limited knee movement. Understanding the nature of this injury helps us appreciate the role of knee braces in the recovery process.
The Importance of Knee Braces
Knee braces act as a protective shield for your injured knee. They provide stability, reduce pressure on the meniscus, and aid in the healing process. By offering external support, knee braces alleviate pain and prevent further damage, allowing you to navigate daily life with more confidence.
Key Features to Look for in a Knee Brace
When choosing a best knee brace for meniscus tear, certain features are paramount:
Adjustable Straps: A brace with adjustable straps ensures a snug fit, adapting to your knee's changing needs.
Open Patella Design: This design reduces pressure on the kneecap, enhancing comfort during movement.
Hinged Support: Hinged braces provide lateral stability and prevent unnatural knee movements, crucial for healing.
Breathable Fabric: Opt for breathable materials to prevent discomfort from excessive sweating.
Top 5 Best Knee Braces for Meniscus Tears
Type: Compression brace | Material: Neoprene | Adjustable: Yes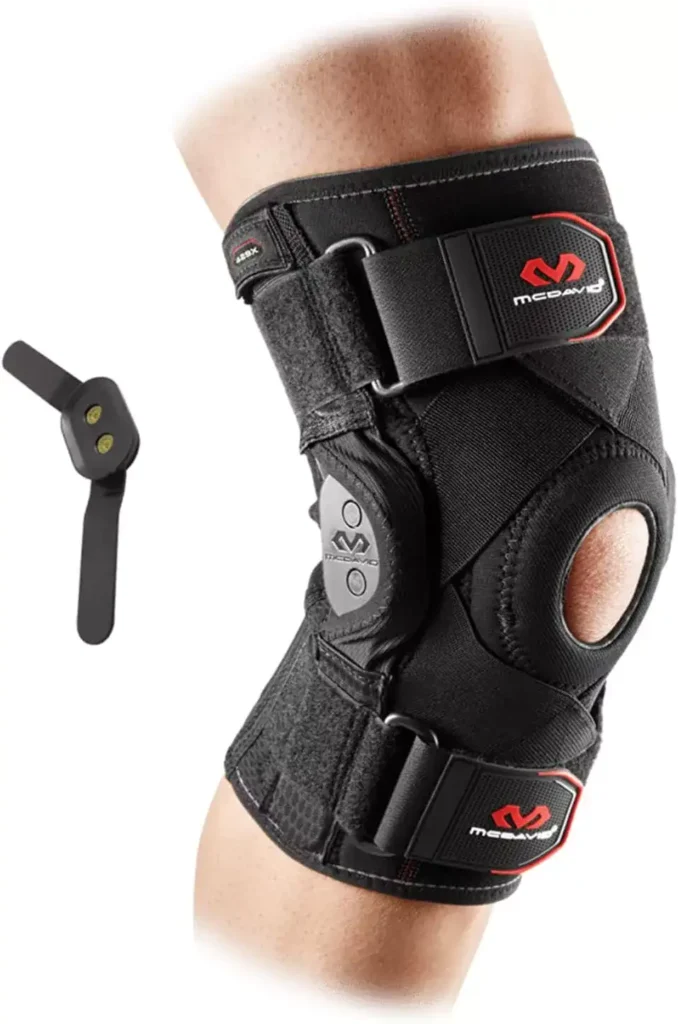 We've selected the McDavid's 429X Knee Brace as our top choice due to its exceptional blend of stability and comfort. With an open-patella design, it strategically applies compression around the kneecap, providing targeted support to the meniscus without causing discomfort.
The adjustable cross straps of the brace ensure a snug fit while offering additional support both above and below the knee. Notably, the brace features reinforced geared side hinges, delivering stability without overly limiting your mobility.
Crafted from compressive neoprene fabric, the brace maintains muscle warmth and relief during wear. Its breathable back panel effectively manages moisture, guaranteeing a relatively cool, dry, and comfortable experience during your favorite activities. The McDavid 429X Knee Brace is your optimal solution for dependable knee support that doesn't compromise on comfort or movement.
Pros
Cooling Effect
Adjustable Straps
Moisture-wicking
Cons
Small Sizing
Potential Slippage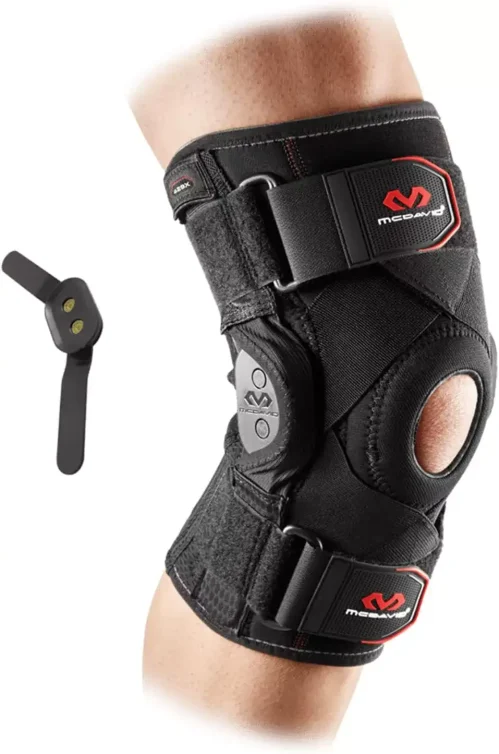 Open-patella design for targeted support
Adjustable cross straps for a customizable fit
Geared side hinges for enhanced stability
Compressive neoprene fabric for muscle warmth
Breathable back panel for moisture management
Type: Wrap-Around Compression | Material: Neoprene and Silicone Sizes: M to XXXL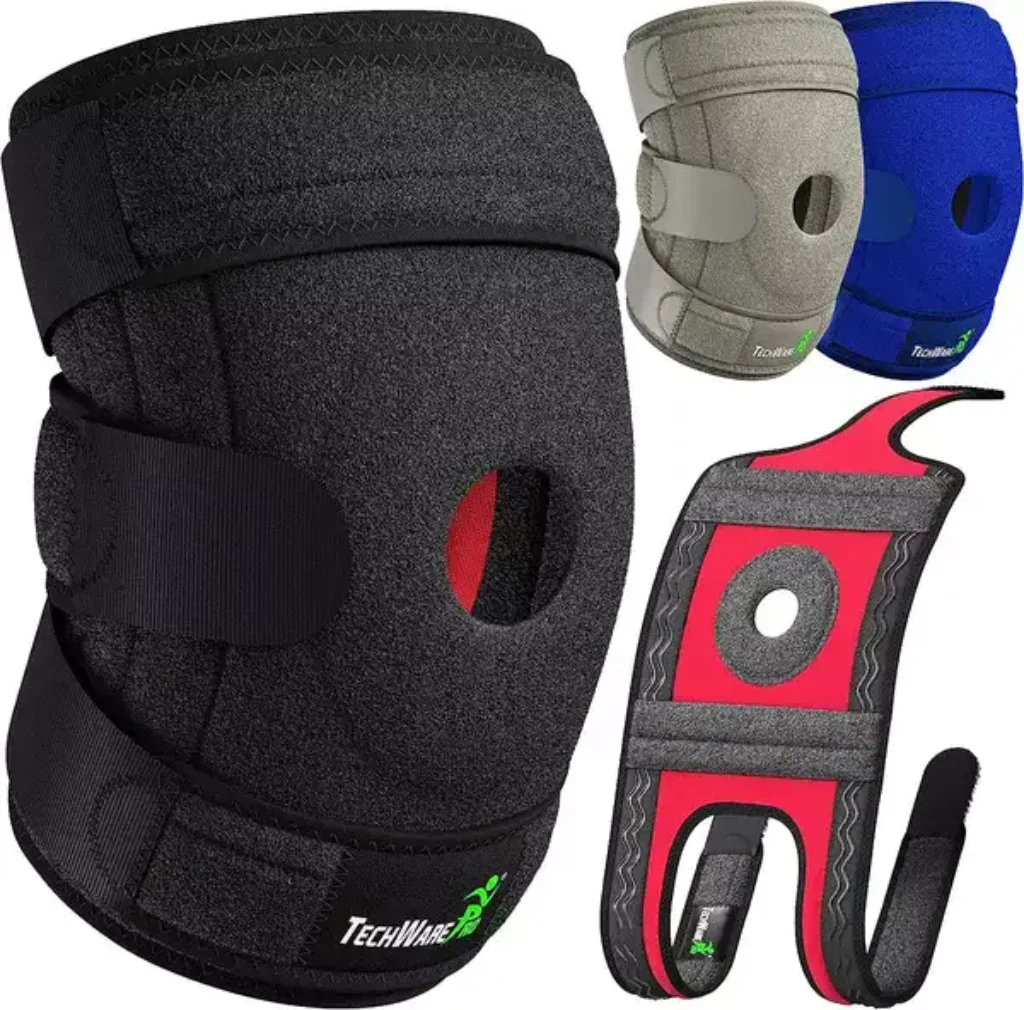 Introducing the TechWare Pro Knee Brace Support, designed to deliver superior stability with a unique bi-directional fastening system. The innovative straps fasten in opposing directions, working in harmony with the dual flexible stabilizer coils on each side. This intelligent design ensures even pressure distribution, offering exceptional support.
Whether for your left or right knee, this brace features strategic padding around the patella, imparting both support and gentle compression. No-slip silicone strips guarantee it stays securely in place, while the adjustable features allow you to achieve the perfect fit.
Engineered to provide mild to moderate support for meniscus tears, the TechWare Pro Knee Brace is an ideal choice. It combines advanced technology with comfort, making it a reliable partner in your journey towards recovery and improved mobility.
Pros
Well-Balanced Support
Effortless Adjustment for Precise Fit
Variety of 3 Stylish Colors
Cons
Slightly Bulky and Restrictive Feel
Fabric Lacks Ideal Breathability

Bi-directional fastening system for stability
Dual flexible stabilizer coils for even pressure distribution
Patella padding for support and compression
No-slip silicone strips for secure placement
Adjustable design for a customized fit
Available in a choice of 3 attractive colors
Type: Compression, wraparound | Material: SBR, nylon, spandex | Adjustable: Yes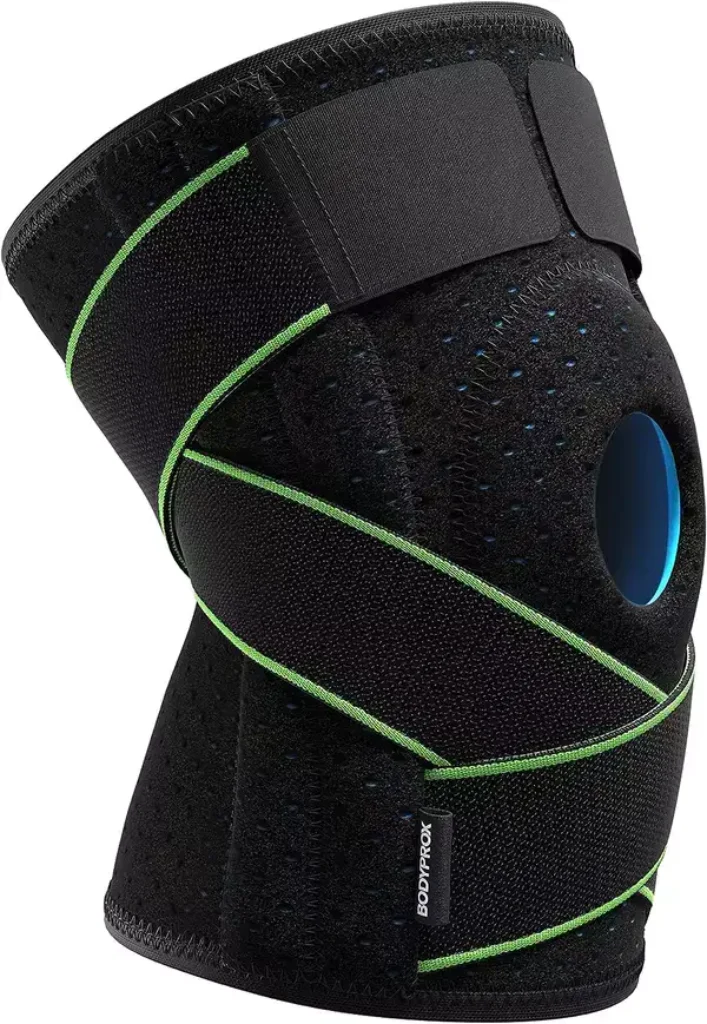 Introducing the Bodyprox Knee Brace with Side Stabilizers, a remarkable blend of affordability and functionality. While budget knee sleeves are common, this knee brace stands out for its accessible price point. Bodyprox's creation encompasses the essentials of a knee brace, including an open-patella design, adjustable cross straps, and spring stabilizers—all without straining your wallet.
Crafted from breathable neoprene fabric, this brace combines compressive support with unrestricted flexibility and comfort. Its sweat-absorbing nature ensures a dry and comfortable experience even during extended wear.
"Wearing a knee brace can boost confidence post-meniscus injury, but it should complement addressing movement, strength, and neuromuscular deficits—the real core of the issue," explains Brandon Schmitt, DPT, ATC, Chair of the Knee Special Interest Group at the American Academy of Sports Physical Therapy.
Designed to encircle the knee, the brace's flexible straps can be adjusted to achieve the desired snugness. Spring stabilizers enhance support and stability by framing the kneecap. With the Bodyprox Knee Brace with Side Stabilizers, you can embrace comfort, affordability, and dependable support in one remarkable package.
Pros
Effective Moisture-Wicking
Provides Compressive Support
Adjustable Straps for Personalized Fit
Cons
Velcro Straps Are Short
Potential for Slippage During Use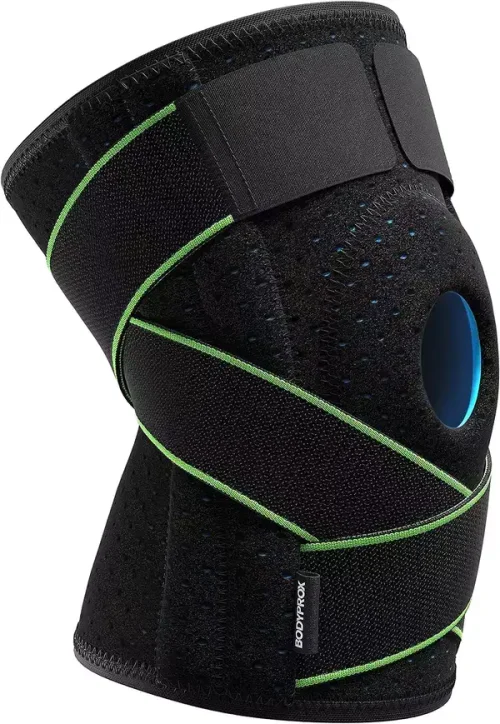 Moisture-wicking properties for dry comfort
Compressive support for stability
Adjustable straps for a customized fit
Velcro straps for easy fastening
Potential for slipping during use
Shorter velcro straps for a snug fit
Type: Compression Sleeve | Material: Elastic Knit Neoprene | Sizes: XS to XL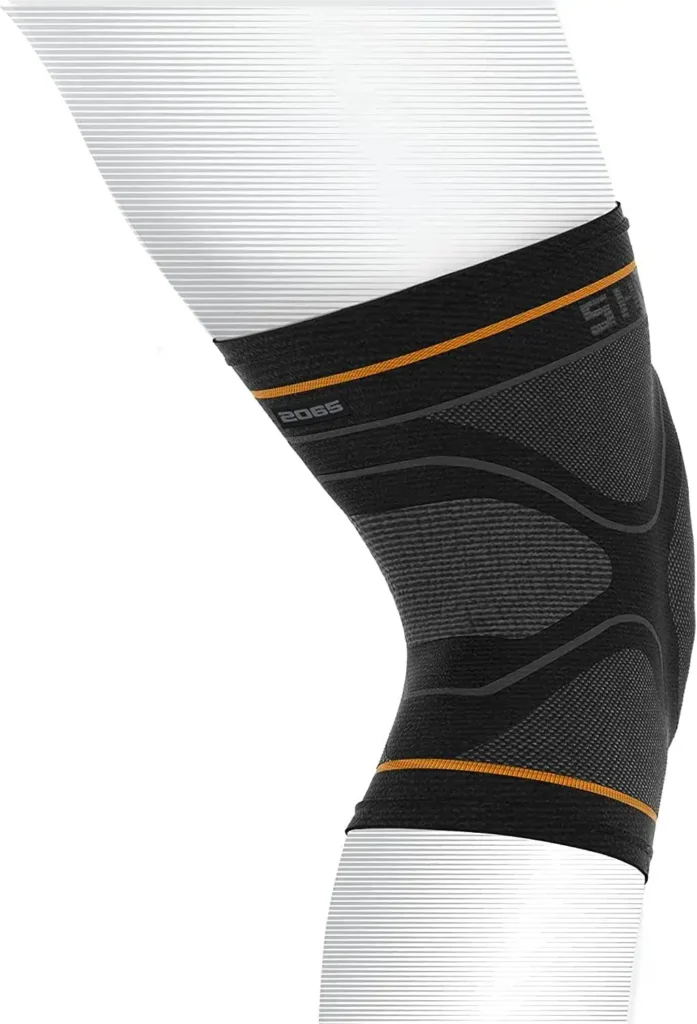 The Shock Doctor Knee Support Sleeve may appear as a simple compression sleeve, but it comes with an integrated gel inlay that strategically surrounds the patella. This feature offers targeted compression and a moderate level of support precisely where you need it most.
For those who prefer a lighter support option, Shock Doctor also offers a similar sleeve with a gentler level of support.
Unlike some sleeves that tend to bunch up behind the knee during movement, this sleeve's knit design prevents such discomfort, allowing you to enjoy flexibility without hindrance.
Crafted from soft neoprene material, the sleeve boasts a gentle touch against your skin and ensures minimal irritation. Its stretchy nature lets it conform comfortably to your knee's unique shape. With Shock Doctor's Knee Support Sleeve, you can confidently embrace daily activities with comfort, support, and flexibility in mind.
Pros
Low Profile Design
Comfortable Fit Under Clothing
Lightweight Alternative to Full Braces
Cons
Slight Slippage Occurs
Durability Issue Around Gel Insert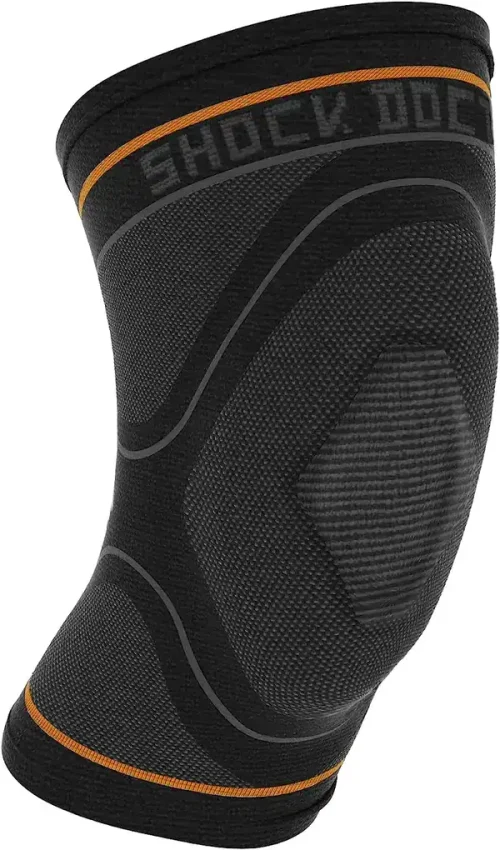 Integrated gel inlay for targeted compression
Low profile design for discreet wear
Comfortable fit under clothing
Lightweight construction for ease of use
Prevents bunching and discomfort
Suitable as a lightweight alternative to full knee braces
Type: Compression brace | Material: Neoprene | Adjustable: Yes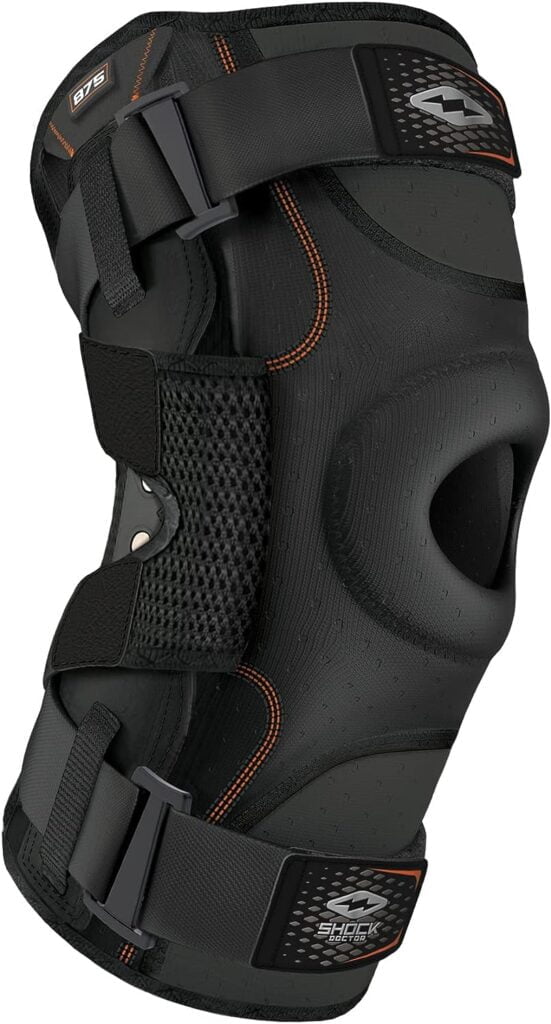 For individuals in search of the best knee brace for meniscus tear, Shock Doctor's Ultra Knee Support stands as a prime recommendation. This brace showcases flexible side stabilizers that expertly encase the knee, ensuring stability and secure placement throughout a range of activities.
With top and bottom adjustable straps, achieving a snug fit and added support is effortless. The inclusion of heavy-duty bilateral hinges on both sides of the knee guarantees comprehensive support without excessively restricting your range of motion.
Despite its robust construction, the brace maintains comfort and a relative level of flexibility. Its pre-curved anatomical design offers a secure fit on either knee. Constructed from breathable, antimicrobial fabric, the brace facilitates airflow while combatting odor, bacteria, and moisture accumulation. Embrace your favorite activities with confidence, benefiting from thorough knee support courtesy of Shock Doctor's Ultra Knee Support.
Pros
Adjustable Straps for Custom Fit
Effective Moisture-Wicking Properties
Odor and Bacteria Prevention

Flexible side stabilizers for enhanced stability
Adjustable straps for a personalized fit
Heavy-duty bilateral hinges for thorough support
Pre-curved anatomical design for comfort
Breathable and antimicrobial fabric for odor and bacteria control
Moisture-wicking properties for dry comfort
Comfort and Fit: Finding the Right Brace
Comfort is key when dealing with a meniscus tear. Finding the right fit ensures that the brace stays in place and provides the necessary support throughout the day. Remember, a comfortable brace encourages consistent usage, which is crucial for recovery.
How to Wear and Care for Your Knee Brace
Wearing your knee brace correctly maximizes its benefits. Ensure proper placement and snugness without over-tightening. Additionally, maintain the brace's cleanliness to prevent skin irritation. Following the manufacturer's care instructions will extend the brace's lifespan.
Staying Active with a Meniscus Tear
Don't let a meniscus tear sideline your active lifestyle. Consult your healthcare provider to determine suitable activities. Low-impact exercises like swimming and stationary cycling can help maintain fitness without straining the injured knee.
Preventing Meniscus Injuries in the Future
Prevention is better than cure. To reduce the risk of future meniscus injuries, incorporate proper warm-ups, stretching, and strengthening exercises into your routine. Also, be cautious during activities that involve sudden twists or pivots.
Advantages of Using Knee Braces
Apart from aiding in recovery, knee braces offer various benefits:
Pain Relief: Braces alleviate discomfort by providing support and reducing pressure on the injured area.
Improved Confidence: With a stable knee, you can move with more confidence, avoiding fear of reinjury.
Enhanced Mobility: Knee braces enable you to perform daily tasks and activities more comfortably.
Embracing Life Anew with the Right Support
In conclusion, a meniscus tear might slow you down, but it doesn't have to stop you. Choosing the best knee brace for meniscus tear can make a world of difference in your recovery journey. Prioritize comfort, stability, and a design that suits your needs. With the right brace, you can regain your active lifestyle and embrace life anew.
FAQs
Can I continue playing sports with a meniscus tear?
While high-impact sports might be off-limits temporarily, consult your doctor for personalized guidance on suitable activities.
Are there different sizes available for knee braces?
Yes, most knee braces come in various sizes. Refer to the sizing chart provided by the manufacturer for the best fit.
Can I sleep with a knee brace on?
It's generally recommended to remove the brace while sleeping to allow your skin to breathe and prevent discomfort.
How long does it take for a meniscus tear to heal with a knee brace?
Healing time varies, but with proper use of a knee brace and following medical advice, many people experience improvements within a few weeks to a couple of months.
Do I still need a knee brace after my meniscus tear is healed?
Your healthcare provider will advise you on the appropriate duration for brace usage. Once healed, a brace might not be necessary, but it's always good to have one handy for any future strains.
In the end, the journey to healing from a meniscus tear is about finding the right balance between support, patience, and taking proactive steps. With the information provided in this guide, you're well-equipped to choose the best knee brace for your meniscus tear and embark on your path to recovery.
No products found.
Read Next –