Are you looking to achieve a youthful glow and flawless complexion despite having mature skin? As we age, our skin goes through changes that may require a different approach to makeup. Fear not, for we have compiled a comprehensive guide to help you discover the best powder foundation for mature skin. Say goodbye to settling for products that emphasize fine lines and wrinkles, and say hello to radiant, youthful skin that exudes confidence and beauty.
Understanding Mature Skin
Mature skin requires extra care and attention due to the natural aging process. As we age, our skin loses elasticity and moisture, leading to the formation of fine lines and wrinkles. It is essential to choose products that cater to the specific needs of mature skin to achieve a youthful glow.
Advantages of Powder Foundations
Powder foundations offer various benefits for mature skin. Some of the advantages include:
Lightweight formula that does not settle into fine lines.
Provides buildable coverage, allowing you to achieve the desired level of coverage without a heavy feel.
Absorbs excess oil, giving your skin a natural, matte finish.
Ideal for sensitive skin as they are less likely to clog pores.
Helps in setting makeup, ensuring it lasts throughout the day.
Choosing the Right Shade
Selecting the right shade of powder foundation is crucial for a seamless, natural look. Here's how to find the perfect match:
Test the shade on your jawline in natural light to see how well it blends with your skin tone.
Consider the undertones of your skin (warm, cool, or neutral) to find a complementary shade.
Don't hesitate to seek assistance from makeup experts at beauty stores to find the best match for your skin.
Hydration and Anti-Aging Benefits
The best powder foundations for mature skin come enriched with hydrating and anti-aging ingredients. Look for foundations that contain:
Hyaluronic acid to lock in moisture and plump the skin.
Vitamins C and E to fight free radicals and reduce signs of aging.
Collagen to promote skin elasticity and firmness.
Application Techniques
To achieve a flawless finish with powder foundation, try these application techniques:
Use a fluffy brush to apply the powder in light, circular motions.
Build coverage gradually to avoid a cakey appearance.
Focus on areas where you need more coverage, like around the nose and under the eyes.
Setting Powder Vs. Powder Foundation
While setting powders and powder foundations might seem similar, they serve different purposes. Setting powders are used to set liquid or cream products in place, while powder foundations provide coverage on their own. For mature skin, using a powder foundation can be more beneficial as it offers coverage and skincare benefits in one product.
Ingredients to Look For
When searching for the best powder foundations, keep an eye out for these skin-loving ingredients:
Ceramides to strengthen the skin's barrier and retain moisture.
Peptides to encourage collagen production and minimize the appearance of wrinkles.
Aloe vera to soothe and calm the skin, reducing redness and irritation.
Best Powder Foundation for Mature Skin: Our Top 5 Picks
Let's dive into the top five powder foundations that have been specially formulated to cater to the needs of mature skin: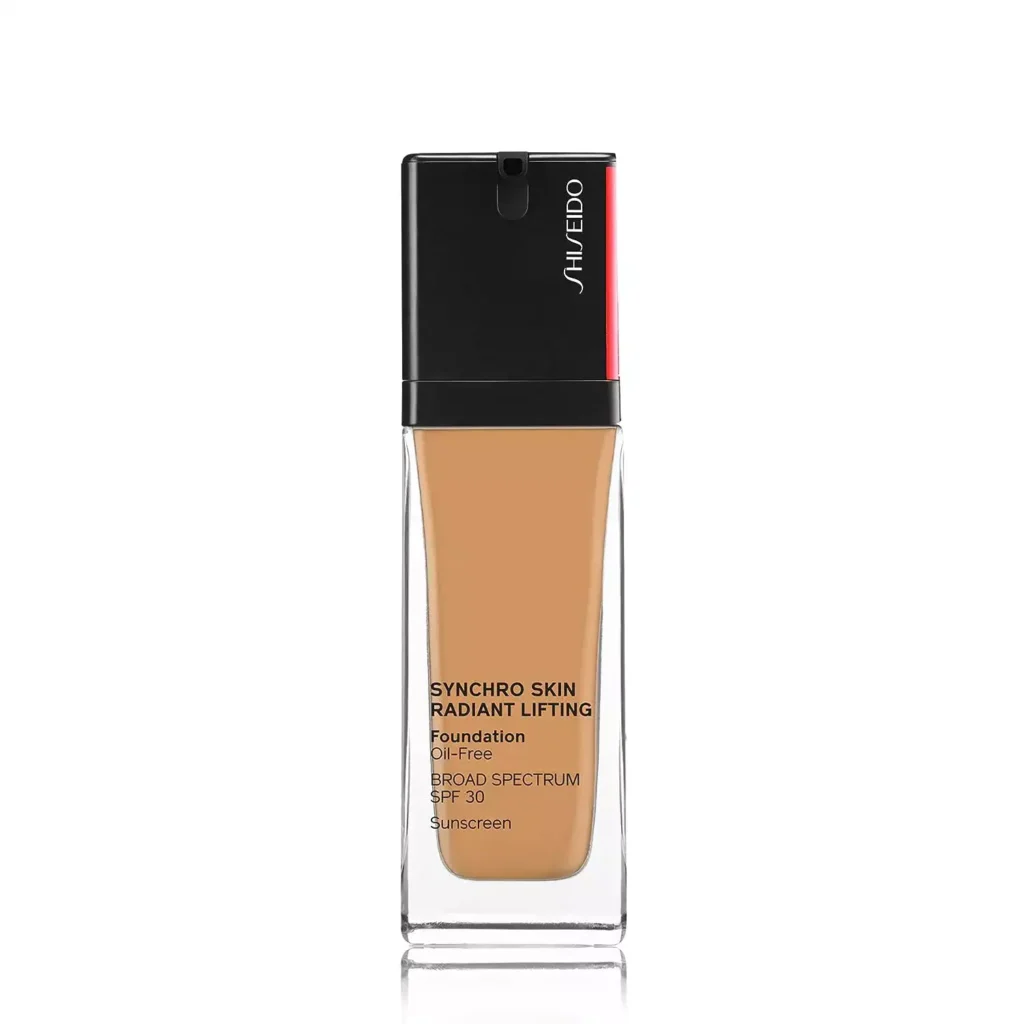 Formulated impeccably, this foundation offers coverage ranging from medium to full, presenting an array of 30 shades. Its target audience is mature skin, benefiting from its ability to reflect light gently and the incorporation of mandarin-peel extract for a smoothing effect that aids in reducing hyperpigmentation.
The liquid formula, known for its lightweight consistency, contains SPF 30 and can be applied sparingly for a moderate finish or layered for complete coverage. The blend seamlessly merges with facial features without accentuating fine lines. It not only enhances but also refines and revitalizes mature skin. Users commend its proficiency in delivering full facial coverage while maintaining optimal hydration levels. This product is the ultimate choice for occasions demanding extensive coverage and essential hydration simultaneously.
Positive
Contains broad-spectrum sun protection
Hydrates
Best full-coverage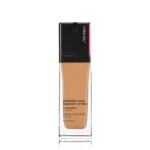 Key ingredients: Light-adjusting technology, transparent and radiant microcrystals, luminous pearl
Size: 1.0 ounce
Shades: 30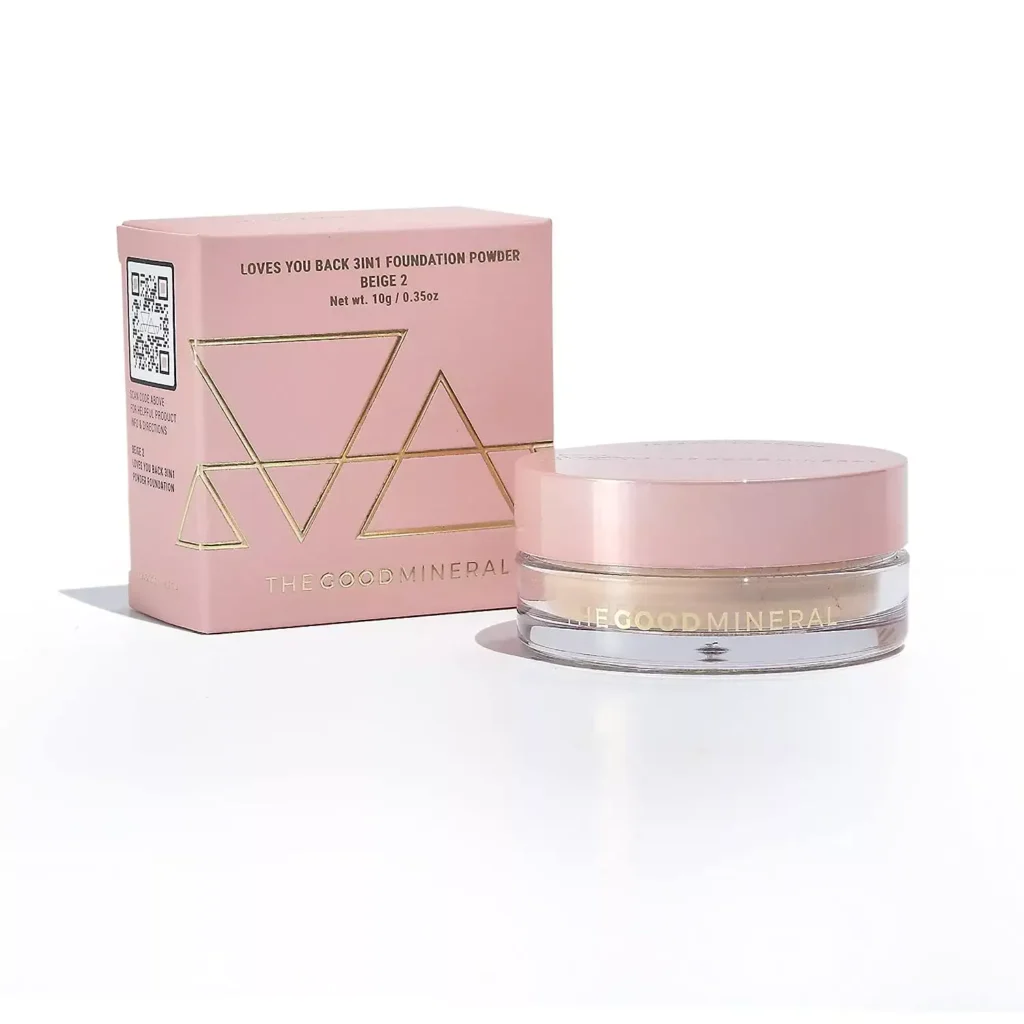 Presenting a versatile three-in-one solution that encompasses concealer, powder, and foundation, this product caters especially to mature skin. Its distinguishing factor lies in its ability to provide comprehensive coverage while maintaining skin's moisture balance, avoiding any tendency to settle into fine lines or pores. Crafted from mineral-based ingredients including zinc, iron oxide, and titanium dioxide, this unique blend offers a natural shield against the sun's rays, ensuring sun protection for all age groups. Additionally, its non-comedogenic properties make it an effective barrier against breakouts, particularly beneficial for women navigating hormonal fluctuations during peri-and menopause.
This innovative product not only offers cosmetic benefits but also addresses specific skin concerns during different life stages. Its adaptability to the ever-changing needs of skin, especially for those experiencing hormonal shifts, sets it apart. By combining multiple functions into one, it simplifies beauty routines while providing a burst of nourishment and protection, embodying a harmonious blend of science and nature.
Pros
Incorporates minerals for effective sun protection
Suitable choice for sensitive or acne-prone skin
Avoids settling into fine lines
Cons
Considerably high price point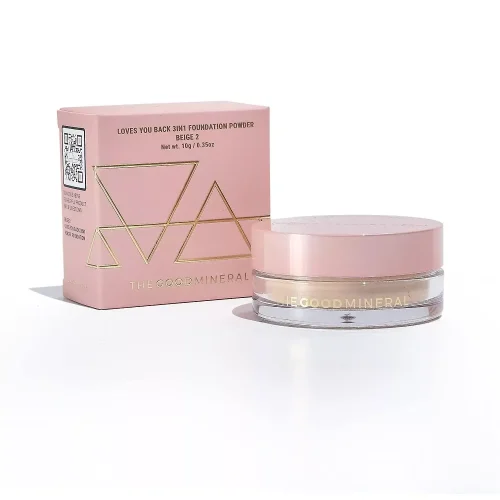 Key ingredients: Zinc oxide, sericite, and iron oxide
Size: 10 grams/.35 ounces (net weight)
Variety: Available in 12 shades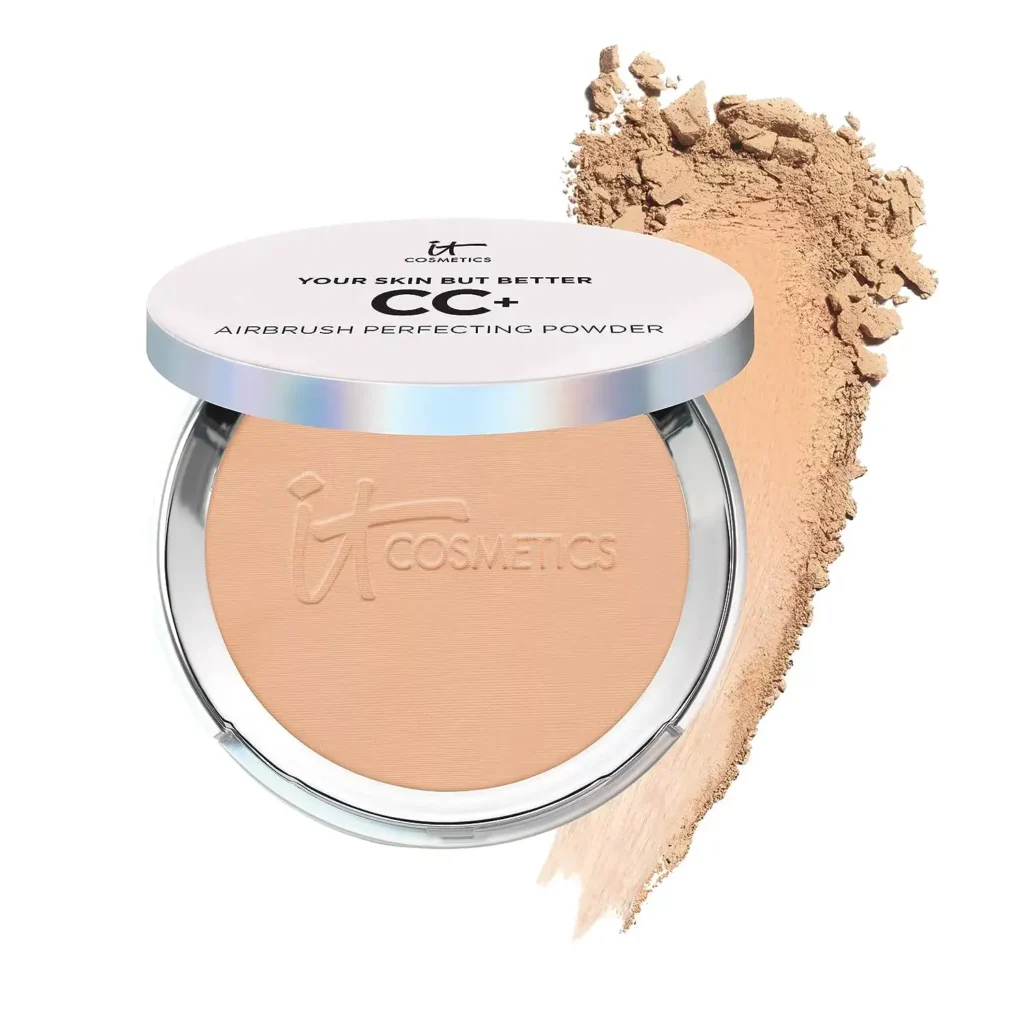 Introducing the Discover IT® CC+ Airbrush Perfecting Powder Foundation—an exceptional solution that grants you a soft, flawless complexion in just 30 seconds! This revolutionary powder foundation provides sheer-to-full coverage, expertly concealing pores, dark spots, and other imperfections by enveloping your skin in a delicate veil of optical-blurring pigments, leaving you with impeccably airbrushed results.
Whether used as a finishing touch over your favored foundation or worn alone as a buildable coverage foundation, this formula offers versatility without compromising on hydration. Free from talc, it ensures a seamless finish that won't settle into lines or pores. Enriched with hydrolyzed collagen, hyaluronic acid, niacinamide, and peptides, this formula goes beyond cosmetic coverage, providing a nurturing touch to your skin.
Crafted with the insights of plastic surgeons and the expertise of dermatologists, IT Cosmetics is committed to creating formulations that tackle problems while pampering your skin. Experience the remarkable IT Beauty difference firsthand!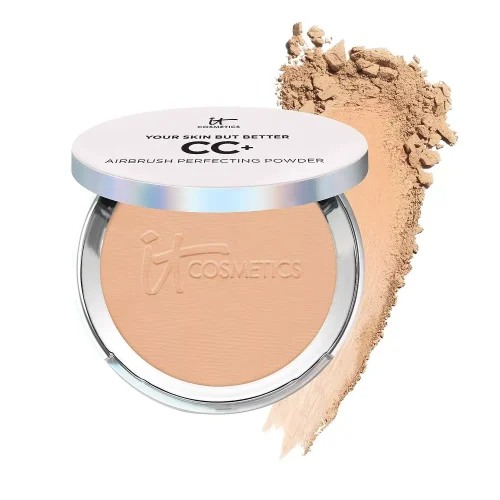 Instant airbrushed effect with optical-blurring pigments.
Use as powder or foundation, alone or layered.
Talc-free formula, no settling into lines.
Conceals pores, dark spots, imperfections.
Enriched with anti-aging ingredients.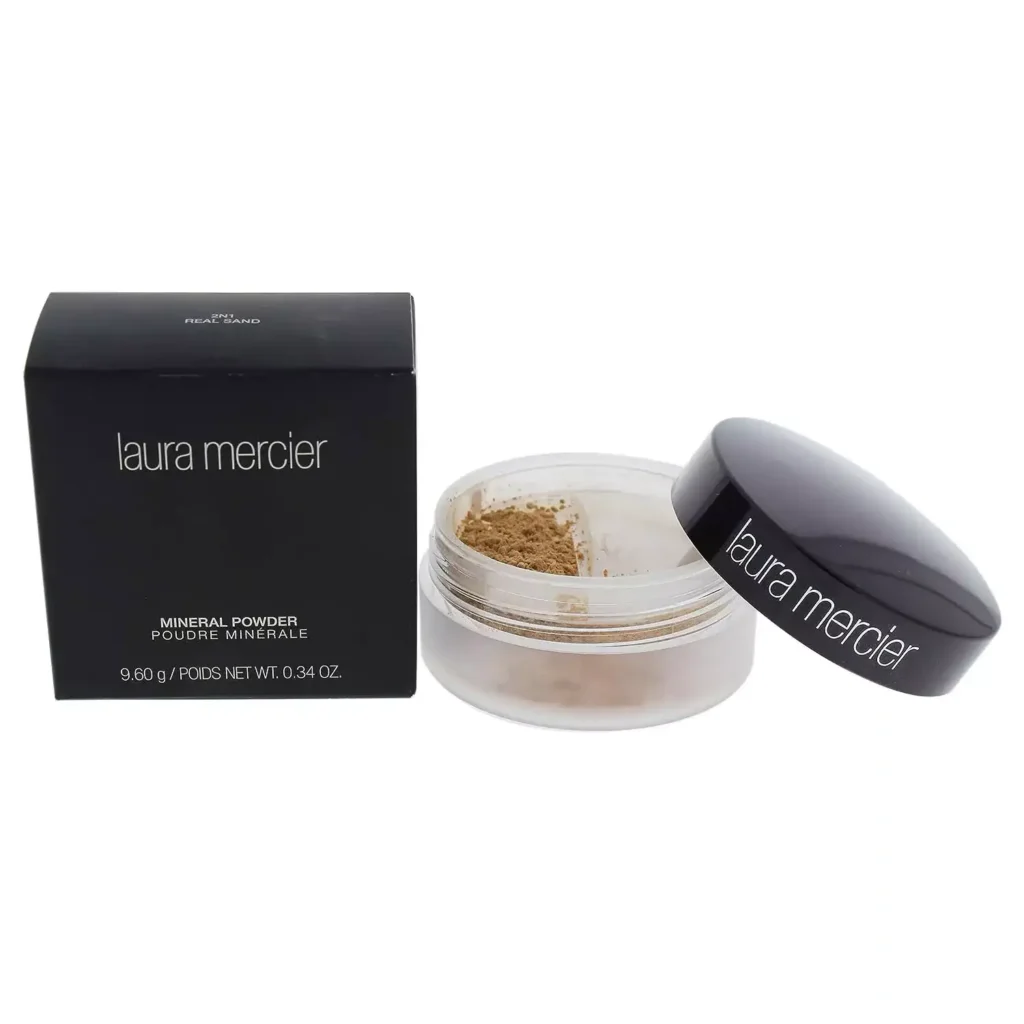 Dive into the cosmos of cosmetics, and you'll unearth the enigmatic Laura Mercier Mineral Pressed Powder. Imagine a powder, finely milled to a whisper, bestowing upon your skin a delicate, matte finish like an artist's final stroke on canvas. Yet, it's no ordinary powder; it's a masterstroke of formulation that veils imperfections, embracing mature skin with a gentle, knowing touch.
Age is but a chapter, and this elixir of elegance honors its story. Wrinkles and lines become mere echoes, concealed beneath the spell of this powder's artistry. But this is no trade-off with time; it's a celebration of both wisdom and youth, a harmonious duet played across the expanse of your skin.
Sentences, like stars in the night sky, twinkle with their own brilliance. Some linger, draped in intricate elegance, while others burst forth with concise vitality. This dance of diversity weaves intrigue, shattering predictability with every turn. Each sentence, a step into the unknown, invites you to a realm of constant discovery.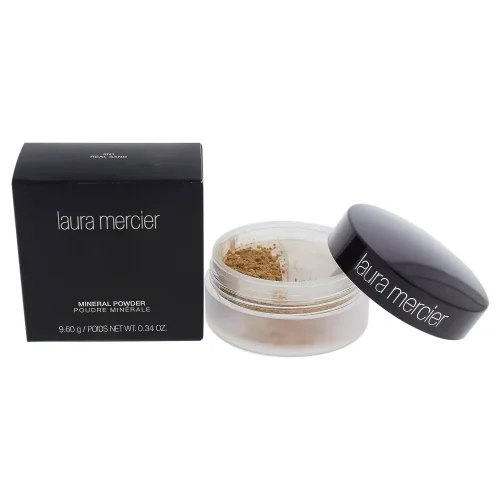 Instantly melts on skin as satiny as a cream
Leaves you a luminous and natural complexion
Gives a long-lasting, matte-looking finish in a natural glow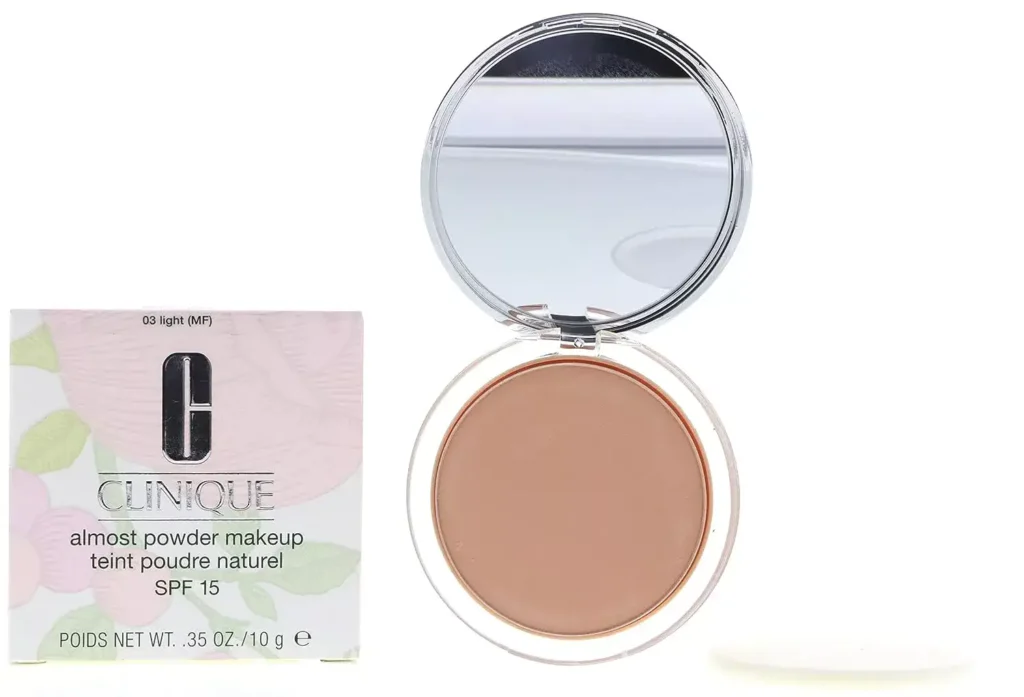 Clinique Almost Powder Makeup is a product offered by the skincare and cosmetics brand Clinique. It's a lightweight, natural-looking powder foundation designed to provide light to medium coverage while offering a matte finish. This product is often recommended for those who prefer a more natural and subtle makeup look or for individuals with sensitive skin, as Clinique is known for its dermatologist-developed and allergy-tested formulations.
The Almost Powder Makeup is typically applied with a brush or a sponge, and it can be used alone as a foundation or as a setting powder to enhance the longevity of liquid or cream foundations. Its lightweight formula is meant to provide a comfortable feel on the skin while helping to even out the complexion and minimize the appearance of imperfections.
Keep in mind that product offerings and formulations might change over time, so it's a good idea to check the Clinique website or consult with beauty professionals for the most up-to-date information on this product.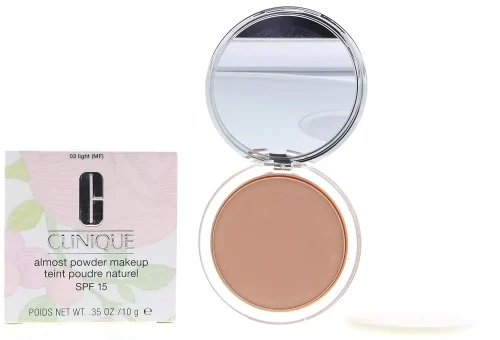 Sheer Coverage: Enhance natural beauty.
Matte, Natural Finish: Authentic, non-glossy look.
Effortless 'No-Makeup' Makeup: Enhance charm.
Mineral-Enriched, Long-Wear Formula: SPF protection.
Feather-Light Feel: Comfortable wear.
Easy Application: Sponge, brush, or almost blindfolded.
Broad Spectrum SPF 18: Sunshield.
Dermatologist Tested: Trusted.
Allergy Tested: Gentle on skin.
Longevity and Transfer-Proof Formulas
One of the essential factors to consider when choosing a powder foundation for mature skin is its longevity and transfer-proof properties. Opt for foundations that offer long-wear benefits, ensuring your makeup stays intact throughout the day without settling into fine lines.
Best Practices for Long-Lasting Wear
To maximize the wear time of your powder foundation, follow these best practices:
Start with a clean and moisturized face to create a smooth canvas.
Apply a primer to minimize the appearance of pores and create a seamless base for your foundation.
Use a setting spray after makeup application to lock everything in place.
Caring for Mature Skin Throughout the Day
Maintaining a youthful glow requires more than just makeup application. Take care of your skin throughout the day with these tips:
Stay hydrated by drinking plenty of water.
Avoid touching your face to prevent transferring dirt and bacteria.
Apply sunscreen to protect your skin from harmful UV rays.
Removing Powder Foundation Correctly
Properly removing your makeup at the end of the day is essential to keep your skin healthy. Follow these steps to remove powder foundation:
Use a gentle makeup remover or micellar water to dissolve the foundation.
Cleanse your face with a mild cleanser to remove any remaining residue.
Finish with a hydrating moisturizer to replenish your skin's moisture.
Nourishing Your Skin after Makeup Removal
After removing your makeup, treat your skin with some extra care:
Apply a night cream or serum to rejuvenate your skin while you sleep.
Consider using a face mask once or twice a week to provide deep hydration.
Makeup Tips for a Youthful Appearance
Enhance your youthful glow with these makeup tips:
Use cream blushes and highlighters for a dewy, fresh look.
Opt for soft, neutral eyeshadows to open up your eyes.
Define your brows to frame your face and add dimension.
Conclusion
In conclusion, achieving a youthful glow with mature skin is absolutely possible with the right powder foundation. By understanding your skin's unique needs and choosing products with beneficial ingredients, you can embrace your age gracefully and radiate confidence. Embrace the power of powder foundations for mature skin and let your inner beauty shine through.
FAQs
What makes powder foundations suitable for mature skin?
Powder foundations are lightweight and offer buildable coverage, preventing them from settling into fine lines and wrinkles.
How do I find the right shade of powder foundation?
Test the shade on your jawline in natural light and consider your skin's undertones to find a complementary match.
Can powder foundations help with anti-aging?
Yes, many powder foundations are enriched with ingredients like hyaluronic acid, vitamins, and collagen to provide anti-aging benefits.
Should I use a setting powder or a powder foundation?
For mature skin, using a powder foundation is more beneficial as it provides coverage and skincare benefits in one product.
How can I ensure my makeup stays intact throughout the day?
Start with a clean and moisturized face, use a primer, and finish with a setting spray to lock your makeup in place.
Bestseller No. 1
KIMUSE Lighting Glow Baked Foundation, Brighten Color, Color Corrector, Buildable Coverage, Lightweight Powder Foundation, Radiant Natural Finish (Natural Ivory)
BAKED FACE POWDER FOUNDATION-This balance and brighten foundation is hand-baked to provide natural color and ideal coverage to help you create the perfect canvas and natural, semi-matte finish.
BUILDABLE MEDIUM COVERAGE EFFECT-Medium coverage powder foundation has a lightweight, buildable formula that provides neutral warmth in varying intensities, and the buildable coverage allows you to customize your glow.
SELF-ADJUSTING MATCHING SKIN TONE PIGMENTS-Natural mineral baked foundation has a smooth texture that feels comfortable on the skin, applies smoothly and blends easily without breaking down, caking or clogging pores. Medium coverage and long-lasting formula maintains true color for hours for an even wear.
HOE TO USE-Use a sponge or brush to apply and blend the formula onto the skin, layering where needed until the desired level of coverage is achieved for a healthy glow creating a flawless finish in seconds.
VEGAN & CRUELTY FREE-This lightweight, buildable, multi -functional powder can be used as a foundation on its own or applied over liquid skin tone products to highlight, contour, bronze, and complete the perfect look, it's paraben-free, vegan, and best for mature skin.
Sale
Bestseller No. 2
LAURA GELLER NEW YORK Award-Winning Baked Balance-n-Brighten Color Correcting Powder Foundation – Fair – Buildable Light to Medium Coverage – Demi-Matte Natural Finish
BALANCE-N-BRIGHTEN COLOR CORRECTING POWDER FOUNDATION: This award-winning foundation handmade in Italy is made up of pressed powders to help you create a perfect canvas and a natural, demi-matte finish. Build your ideal coverage without worrying about caking—this favorite feels weightless and looks flawless.
FAIR: Get this award-winning powder foundation in the perfect shade for fair skin with neutral undertones.
SELF-ADJUSTS TO MATCH YOUR SKIN TONE: Treat yourself to a baked powder foundation that nourishes as it perfects. This natural demi-matte formula gives you creamy coverage that's packed with antioxidants Centella Asiatica and White Tea Extracts for soothing hydration all day long
PERFECT FOR : This one's a crowd-pleaser. Perfect for even mature skin, uneven complexions, and those with fine lines and wrinkles, the light and airy baked powder foundation gives you a flawless face without feeling (or looking) cakey and heavy, no matter your skin type.
HOW TO APPLY: Swirl your brush in the foundation powder. Then, stroke on your face, blending outward and upward. Repeat to build coverage.
Sale
Bestseller No. 3
e.l.f. Camo Powder Foundation, Lightweight, Primer-Infused Buildable & Long-Lasting Medium-to-Full Coverage Foundation, Light 280 N
LONG-LASTING AIRBRUSHED COMPLEXION: Finally! A primer-infused, long lasting foundation that achieves an airbrushed, non-cakey, semi-matte look and stays put on your face—from first application to last call.
BUILDABLE FORMULA: This buildable foundation invites you to layer on medium-to-full coverage, depending on your desire, for a blurred, even complexion that keeps shine at bay. The powder is light as air & creates a flawless, natural to semi-matte finish.
FOR ALL SKIN TYPES: A great addition to your makeup routine for all skin types, especially those with oil control concerns. Camo Powder Foundation is talc-free and non-comedogenic. Pairs well with the entire e.l.f. Cosmetics Camo collection.
POWDER SPONGE INCLUDED: Use by pressing included powder sponge (refills sold separately) into foundation powder and gently pat on face, especially in areas that tend to shine. Reapply as needed throughout the day to absorb excess oil.
SKIN-LOVING INGREDIENTS: All e.l.f. products are made from skin-loving ingredients you want, minus the toxins you don't—all at good-for-you prices. All e.l.f. products are 100% cruelty-free and Vegan.
Sale
Bestseller No. 4
COVERGIRL & Olay Simply Ageless Instant Wrinkle-Defying Foundation, Medium Light
YOUNGER-LOOKING SKIN: This anti-aging foundation diminishes the look of fine lines and wrinkles for a more youthful glow
SAFE IN THE SUN: With SPF 28, this foundation helps protect skin from sun damage
FIND YOUR SHADE: Available in multiple shades for you to find the right match for your skin tone
CRUELTY-FREE: COVERGIRL products are Leaping Bunny Certified by Cruelty-Free International, meaning they are never tested on animals
Sale
Bestseller No. 5
Neutrogena Mineral Sheers Lightweight Loose Powder Makeup Foundation with Vitamins A, C, & E, Sheer to Medium Buildable Coverage, Skin Tone Enhancer, Face Redness Reducer, Natural Ivory 20,.19 oz
Neutrogena Mineral Sheers Lightweight Loose Powder Makeup Foundation in Natural Ivory 20 helps even and enhance skin clarity, tone and texture
This face makeup foundation is made with naturally derived minerals plus Vitamins A, C, & E for a natural looking, flawless finish to celebrate your natural beauty
Powder face foundation covers imperfections, reduces the appearance of redness, provides sheer to medium buildable coverage and helps cover & minimize imperfections
The loose powder makeup in Natural Ivory 20 is gentle enough for sensitive skin and is both lightweight and breathable
Suitable for all skin types, this mineral foundation comes in a variety of natural-looking shades
Bestseller No. 6
IT Cosmetics CC+ Airbrush Perfecting Powder Foundation – Buildable Full Coverage Of Pores & Dark Spots – Hydrating Face Makeup with Hydrolyzed Collagen & Niacinamide – Light – 0.33 Oz
AIRBRUSHED RESULTS – Your Skin But Better CC+ Airbrush Perfecting Powder delivers a skin-softening, flawless effect in 30 seconds! The talc-free formula won't settle into fine lines or pores—for airbrushed results, every time.
YOUR SKIN BUT BETTER – This sheer-to-full coverage finishing powder transforms the look of your skin with a veil of optical-blurring pigments that camouflage pores, dark spots and other imperfections.
ANTI-AGING INGREDIENTS – Our pressed powder is formulated with skin-loving hydrolyzed collagen, hyaluronic acid, niacinamide, and peptides.
HOW TO APPLY – As your finishing powder, lightly sweep on over your favorite foundation using your Heavenly Luxe Wand Ball Powder Brush #8. Can also be worn as your buildable coverage foundation.
IT REALLY WORKS – With clinical insights from plastic surgeons, plus ingredient and skincare expertise from dermatologists, IT Cosmetics creates problem-solving products that give you real results!
Bestseller No. 7
Ruby Kisses Mineral Pressed Powder Foundation, Medium to Full Coverage Natural Finish 0.35 Ounce (Mocha)
Ruby Kisses Pure Mineral Powder Foundation helps even and enhance skin clarity, tone and texture
Powder face foundation covers imperfections, reduces the appearance of redness, provides sheer to medium buildable coverage, and helps cover & minimize imperfections
Skincare-infused formula; Lightweight feel, no-mess mineral makeup won't settle into fine lines & wrinkles
Suitable for all skin types, this mineral foundation comes in a variety of natural-looking shades
Face From Foundation To Finish: Complete your makeup look with our full line of Ruby Kisses face products to aid in color correction and coverage from contour, bronzer, foundations and contouring concealer to palettes and powders
Sale
Bestseller No. 8
L'Oreal Paris Age Perfect Creamy Powder Foundation Compact, 335 Perfect Beige, 0.31 Ounce
Hydrated And Shine-Free: Upon application, it smooths and blurs lines, pores and dark spots and hydrates with a shine-free finish; Includes Easy to Use sponge for coverage that does not cake or settle
Age Perfect Creamy Powder Foundation: This foundation is formulated with a Ceramide Antioxidant Complex and Minerals with a creamy, soft texture; Blurs pores and minimizes imperfections
Age Perfect: Finally a makeup line specially designed for mature skin; Over 100 items including smoothing foundations, serum concealer, satin blush, caring mascara and hydrating lipsticks
Unique Formulas: Put together a flawless look with products specifically designed for specific needs of the 50plus consumer and formulated with caring ingredients like serum vitamins and minerals
L'Oreal Innovation: As the biggest beauty brand in the world, we have an unparalleled commitment to combining the latest in technology with the highest in quality for the ultimate in luxury beauty
Bestseller No. 9
PÃœR 4-in-1 Pressed Mineral Makeup SPF 15 Powder Foundation with Concealer & Finishing Powder – Medium to Full Coverage- Cruelty-Free & Vegan Friendly, 0.28 Ounce
Medium, buildable coverage, natural finish powder foundation
4 benefits in 1: Foundation, Concealer, Powder, and SPF
Lightweight feel, no-mess mineral makeup won't settle into fine lines & wrinkles
Skincare-infused formula helps to reduce the appearance of dark circles, redness, fine lines & wrinkles, uneven skin tone, and hyperpigmentation
Buildable Coverage – Light weight formula allows you to build up to your desired coverage
Sale
Bestseller No. 10
Maybelline New York Super Stay Full Coverage Powder Foundation Makeup, Up to 16 Hour Wear, Soft, Creamy Matte Foundation, Classic Ivory, 1 Count
Full Coverage Foundation Powder: Bring on effortless wear and get a full coverage makeup look with Maybelline's Super Stay Powder Foundation; A must-have for your makeup bag, this full coverage powder makeup has a matte finish with long-lasting wear
All Day Stay: This long-lasting foundation face powder lasts for up to 16HRs of wear; Features the full coverage wear of a liquid foundation with the light finish of a powder; High-pigment foundation is available in an extensive shade range
Best Face Forward: Maybelline has sheer, medium, and full coverage foundation in liquid, stick, and cushion foundation formulas, and a range of concealers, plus face primers, contour, highlighter, and pressed powder to help you create a perfect canvas
Maybelline Has What You Need: Create any look with foundation, BB cream, concealer, and highlighter for the perfect canvas, eye shadow, brow pencil, and eyeliner for any eye look and lip products, from showstopping matte lipstick to au natural lip balm
Remove Maybelline Makeup With Micellar Water: Use Garnier Micellar Water as a gentle makeup remover at night, and as a facial cleanser in the morning to prep skin for Maybelline makeup
Read Next-